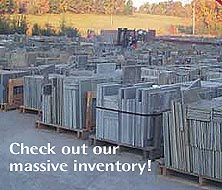 Herb Kilmer & Sons is a wholesale distributor of all Pennsylvania bluestone and fieldstone products. Founded by Herbert Kilmer, it has been owned and operated by the Kilmer family since 1976. We are located in the beautiful Endless Mountains of Northeastern Pennsylvania, minutes from Interstate 81.
We have stone quarries throughout Northeastern Pennsylvania and Southern New York, which allows our stone yard to be fully stocked at all times. Our high quality stone products, vast inventory, and top of the line machinery allow us to provide our clients with the best product available.
Our professional sales staff is always available for quick and friendly service. The needs of our clients are our top priority at all times.
Herb Kilmer & Sons takes pride in outstanding customer service. This is what our reputation has been built upon.