History
About Us | Michael's Book Release!
Kartri Sales Company, Inc., was established by Michael T. Goskowski in 1975. His company name, Kartri, was created from the spelling of his two daughters, Karen (Kar) and Tricia (Tri).
Back in 1975, Michael T. Goskowski envisioned a small manufacturing business of shower curtains to service all hotels, motels, and institutions in the United States. But at the age of 53 years old, this vision revealed a risky reality. Fortunately, his wife, Josephine, as he likes to describe it, "shook hands with him", to be his partner, his support, his courage, and friend. Together they would build their fortune.
Mike reflected back on his years of experience with Ames Shower Curtain Company. In his 27 years of dedication, he learned knowledge of quality, sales, and most of all, respect on how to be a professional leader. During his travels for Ames; he witnessed a time of growth for the hotels and motels. Hotels had delivery deadlines that needed to be met on product for openings and inspections. They began to look for a variety of quality shower curtains that could last for long periods of time, enduring extensive amounts of laundering.
This new revelation of the hospitality trade caused much disarray for a retail outfit such as Ames Shower Curtain Company, for they were not accustomed to those stringent requirements. During this time, Mike had been introduced to Mr. J.W. Marriott, whom was known as the giant in the hospitality world at that time. This meeting turned into a beneficial friendship to Mike as he proceeded into the makings of his own business.
Josephine shared her experience in sewing machine operations with many employees, which began to pay dividends for the company. Mike did what he could to perform an overview of the entire business image. Pinching pennies and slowly buying buildings and equipment was the lifestyle for much of the first ten years. These years were difficult - positive, negative, and challenging - sometimes all in the same day. Faith, friends, and family kept Kartri alive.
Michael and Josephine's vision blossomed as their two children moved up the corporate ladder to help. Karen aggressively moved forward continuously from the beginning, into Production Management, just the same way as her father had started. Later Tricia followed, with the discovery of business travel along with her father, to be Kartri's Sales Manager. "Family Business" is the philosophy and feeling offered to all employees.
Today finds Kartri still holding onto USA manufacturing in the home base state of Pennsylvania. To stay competitive, some manufacturing has moved to Mexico and China.
Michael has now turned the main controls over to his daughters Karen and Tricia. Michael and Josephine have shaken their children's hands of support now. They have given their blessings and trust to continue this success for the entire team at Kartri.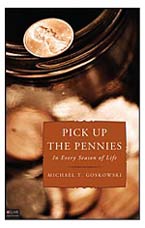 Michael Goskowski's New Book "Pick Up the Pennies" is Released!
Michael's book is available at all booksellers or you are welcome to order by clicking here.
Click here for the Audio Book link.
Pick Up the Pennies
In Every Season of Life
by Michael T. Goskowski
"Pick Up the Pennies" is a story.
The philosophy of this story may seem very simple and practical; but for Michael T. Goskowski, it became a light that guided his life.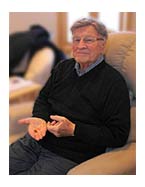 Goskowski's childhood years were difficult as his entire family struggled to rise above poverty and degradation. For fear of working in the coalmines, Michael learned to do his best to seize a better future for himself. Growing from boyhood to manhood during the Great Depression and World War II presented unique challenges that helped create an interesting life and an interesting man. His aggressiveness and optimistic attitude toward the future kept him focused always on achievement and progress.
Readers will follow Mike Goskowski's life through his boyhood and his coming-of-age as a soldier in World War II. They will experience the ups and downs of his family life as Goskowski struggled to hold onto his faith and realize his dreams. By the end of this book, your pockets will be full from learning how to "Pick Up the Pennies."
200 pages - $12.99 (paperback)
For more information, please email author Michael at trish@kartri.com