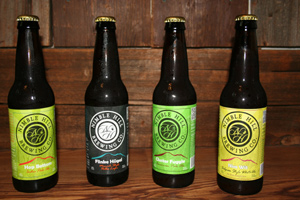 Where Can You Buy Nimble Hill Brewing Company Beer?


VIEW ALL THE LOCATIONS TO BUY OUR BOTTLES BELOW!
We are producing  beer in 12 ounce bottles, 1/6 kegs and specialty 750ML bottles.

We are ready to sell sixtels of beer to the public! Call our tasting room for details and beer availability.

Please visit our Growler Den for samples of our beers available for purchase in growlers and bottles.

3971 State Route 6, Tunkhannock, PA 18657
Tasting Room Phone - (570) 836-9463

Tasting Room Hours:
Monday - Thursday, 11am to 5pm; 
Friday & Saturday ,11am - 7pm 
Sunday, Noon - 4pm


Ask for Nimble Hill Beer at Your Favorite Bar or Restaurant!

• Twigs Café, Tunkhannock

• Krugel's Georgetown Deli, Wilkes-Barre

• Cooper's Seafood House, Scranton

• Fire and Ice on Toby Creek, Trucksville

• Lil's Bar & Grill, Lake Winola

• Season's Restaurant, Tunkhannock

• Tunkhannock Moose lodge

• Fireplace Restaurant

• Beagle pub

• Remington's Restaurant

• Gin's tavern

• The Office pub

• Shadowbrook Resort

• 220 House Bar & Grill, 232 South German Street, Dushore, PA 18614 | (570) 928-8939

These are just a few of the locations you can find us. Download the Excel file of our bottle availability starting this Summer 2014 or see below!


Nimble Hill Bottles Featured at These Retail "D" Distributors, Deli's & Markets!

DISTRBUTORS | DELI'S & MARKETS
LACKAWANNA COUNTY

A CLAUSE DISTRIBUTING, CARBONDALE

BEER CITY USA, S. SCRANTON

LAKE WINOLA BEVERAGE, FACTORYVILLE

BIRNEY BEVERAGE, MOOSIC

BORO BEVERAGE, MOSCOW

BREWERS OUTLET, DUNMORE

CADDEN BROTHERS, SCRANTON

CLARK SUMMIT BEVERAGE, CLARKS SUMMIT

CROWN BEVERAGE, CLARKS SUMMIT

FLANNERY BEER DISTRIBUTOR, SCRANTON

HARRINGTON DISTRIBUTING, SCRANTON

JOE'S BEERMAN, PECKVILLE

NORTH POCONO BEVERAGE, COVINGTON TWP.

OK BEERMAN, SCRANTON

OLD FORGE BEVERAGE, OLD FORGE


OLYPHANT BOTTLING, OLYPHANT

PIONEER DISTRIBUTING, SCRANTON

TAYLOR BEVERAGE, TAYLOR


LUZERNE COUNTY

BEER SUPER, WILKES BARRE

COLD CASE BEVERAGE, EXETER

J & M UNION BEVERAGE, LUZERNE

KERN BROS., DALLAS

LAKEWAY BEVERAGE, DALLAS

MIDWAY BEVERAGE, WYOMING

MOUNTAIN BEVERAGE, PLAINS

PATEL'S BEVERAGE, PITTSTON

PIKE'S CREEK BEVERAGE, HUNLOCKS CREEK

PLAZA BEVERAGE, PITTSTON

QUALITY BEVERAGE OF NEPA, PITTSTON

WYCHOCK'S BEVERAGE, WILKES BARRE

WYCHOCK'S BEVERAGE, MOUNTAIN TOP

WYOMING VALLEY BEVERAGE, EXETER

WYOMING VALLEY BEVERAGE, EDWARDSVILLE

PIKE COUNTY

DINGMAN BEVERAGE, DINGMAN'S FERRY

WAYNE COUNTY

HAMLIN DISTRIBUTING, HAMLIN

SHOOKYS DISTRIBUTING, HAWLEY

WAYMART BEVERAGE, WAYMART


WYOMING COUNTY

B & R DISTRIBUTING, TUNKHANNOCK

PLAZA BEVERAGE, TUNKHANNOCK

WYOMING COUNTY BEVERAGE, TUNKHANNOCK

SUSQUEHANNA COUNTY

CLIFFORD BEVERAGE, CLIFFORD

MONTROSE BEVERAGE, MONTROSE

MONROE COUNTY

BREWSKIE'S BEVERAGE, E. STROUDSBURG

EAGLE VALLEY BEVERAGE, E. STROUDSBURG

MOUNT POCONO BEVERAGES, MOUNT POCONO

SMITHFIELD BEVERAGE, BRODSHEADSVILLE

WALCOTT BEVERAGE, BUSHKILL

HARMONY BEVERAGE, BLAKESLEE

HAZELTON AREA

QUALITY BEVERAGE, HAZELTON

T. VERRASTRO BEVERAGE, HAZELTON

CARBON COUNTY

ALL STAR DISTRIBUTING, SUMMIT HILL

BELTZVILLE BEVERAGE, BELTZVILLE

CARBON BEVERAGE, WEATHERLY

PALM BEVERAGE, PALMERTON

DELI'S & MARKETS
LACKAWANNA COUNTY

BREWHOUSE MINI MART, PECKVILLE

BILL'S SHOP RITE BEER CAFÉ, MOUNT POCONO

CATHY'S SCOTTS GROCERY, SCRANTON

CITY MARKET CAFÉ, SCRANTON

CONVENIENT EXPRESS 6PK, SIMPSON

CONVENIENT FOOD MART, OLYPHANT

CONVENIENT FOOD MART, BULLS HEAD

CONVENIENT FOOD MART, N. MAIN, SCRANTON

CONVENIENT FOOD MART, OLD FORGE

DANTE'S DELI, CHILDS

DUNMORE DELI, DUNMORE

GERRITY'S SUPERMARKET, KEYSER OAK

GERRITY'S SUPERMARKET, WEST SCRANTON

JESSUP PLAZA BEV CENTER, JESSUP

JOE'S 6 PACKS TO GO, DUNMORE

KEYSER AVE 6PK .TO GO, OLD FORGE

MRS D'S, SCRANTON

NOONE'S MARKET, SCRANTON

PEPPERS PIZZA, SCRANTON

RICCARDO'S MARKET, DUNMORE

SCHULTZVILLE DELI, CLARKS SUMMIT

SUMMIT CIGAR SHOP, CLARKS SUMMIT

VINCENZO'S, WEST SCRANTON

WEGMAN'S, DICKSON CITY

WEIS MARKET, CLARKS SUMMIT

WEST SIDE 6 PK. TO GO, SCRANTON

WHAT'S BREWIN 6 PK., OLD FORGE


LUZERNE COUNTY

ANTONIO'S, WILKES BARRE

ANTONIO'S PIZZA, NANTICOKE

BEER STOP DELI & CIGAR, NANTICOKE

BULL RUN BEER DELI, LARKSVILLE

C.F.M. VARIETY BEVERAGE, LUZERNE

CARRIAGE STOP BEER, WILKES BARRE

CONVENIENT FOOD MART, AVOCA

CONVENIENT FOOD MART, KINGSTON

CONVENIENT FOOD MART, N. MAIN - PITTSTON

CONVENIENT FOOD MART, S. MAIN - PITTSTON

DUPONT 6PK. TO GO, DUPONT

GEORGETOWN DELI, WILKES BARRE

GERRITY'S SUPERMARKET, HANOVER

GOLDSTEIN'S DELI, KINGSTON

J & H BEER DELI, PLAINS

J & J DELI, DALLAS

MARKET ST 6 PK. TO GO, KINGSTON

MEMORIAL FOOD MART, SHAVERTOWN

MOUNTAINTOP 6 PKS. TO GO, MOUNTAINTOP

MR. PIZZA & QUICK STOP, WILKES BARRE

PETER'S DELI, WILKES BARRE

PETE'S PLACE PIZZA, WILKES BARRE

PHILLY SUBS, PLAINS

PHILLY'S PHINEST, WILKES BARRE

PITTSON 6 PKS. TO GO, PITTSTON

PIZZAFELLA'S, WILKES BARRE

LUZERNE COUNTY (continued)

PRICE CHOPPER, WILKES BARRE

PRICE CHOPPER, EDWARDSVILLE

QUICK BEER TO GO, WILKES BARRE

SABATINI'S, WYOMING

THOMAS FOODTOWN, DALLAS

WEGMAN'S, WILKES BARRE

WEIS MARKET, DALLAS

WILKES PLAZA BEVERAGE, WILKES BARRE


MONROE COUNTY

KINSLEY'S BEER TO GO, BRODHEADSVILLE

MIGGY'S FOODTOWN, E. STOUDSBURG

WEIS MARKET, BRODHEADSVILLE

PIKE COUNTY

BROWNS ONE STOP, BEACH LAKE

BROTHER BRUNO'S PIZZA, LORDS VALLEY

DUTCH'S MARKET, GREENTOWN

ICE COLD BEER, MILFORD

LAKEVIEW CAFÉ, DINGMANS FERRY

WAYNE

WEIS BEER CAFÉ, HONESDALE

CARBON

BEER ZONE, PALMERTON

WYOMING COUNTY

SAM'S SUBS SUDZ AND MORE, LEMON